Posts from May 2014
There are some new babies at the Denver Zoo!


Denver Zoo
Denver Zoo is celebrating the birth of three maned wolf pups, which were born on May 1. The unnamed triplets, made up of two males and one female, were born to mother, Adrianna, and father, Inigo, and are the first of their species to be born at the Zoo since 2009. All three pups were just given a clean bill of health by Denver Zoo veterinarians. Though the pups are not yet old enough to explore the outside world on their own yet, Zoo visitors might catch glimpses of them as their protective mother totes them from den to den inside the Wolf Pack Woods exhibit.

These are the first pups for both Inigo and Adrianna, who both arrived at Denver Zoo in September 2013. Inigo came from Texas' Abilene Zoo, where he was born in December 2011. Adrianna arrived from Springfield, Missouri's Dickerson Park Zoo, but was born at the Fossil Rim Wildlife Center, near Glen Rose, Texas in February 2012. The pair came to Denver Zoo as part of a Species Survival Plan (SSP) recommendation from the Association of Zoos and Aquariums (AZA), which ensures healthy populations and genetic diversity among zoo animals. Fortunately, the couple has proved to be an excellent match.
[ Denver Zoo ]


Denver Zoo


What are Maned Wolves?
Maned wolves resemble red foxes with long legs. Despite their reddish coloring and general appearance they are not related to foxes and despite their name, they are not members of the wolf family. The maned wolf is the largest wild dog of South America. Standing about three feet tall at the shoulder, their long legs enable them to see above the tall grass – an adaptation that helps them hunt for food and avoid predators.

[ Denver Zoo ]
---
Tuesday- May 20th

Do you want your eyes to "pop?" Try false eyelashes. You can create thick, lush lashes for under $10.

I normally use Ardell Lashes from King Soopers, you can pick them up on sale for under $3 or a package with the glue for under $8.
________________________________________________________________________________________
The eyes have it!


Use a eyeliner to cover your lash roots. I use black liquid eyeliner.
squeeze a drop of glue on a surface.
Use scissors to trim eyelashes, so they are not too long and look natural.
Dip the lash root in the glue.
Place the false eyelash on your eyelash roots.
Use the end of the glue tube to press the false eyelash along your eyelid.
Qtip also works well.
Let dry.
Add another layer of eyeliner and eye makeup.
To remove, use eye makeup remover with oily base.
---
There's another new baby at the Denver Zoo!


Denver Zoo
Denver Zoo welcomed the addition of a new, female clouded leopard cub this weekend to encourage successful breeding later in life. The unnamed cub was born on April 10 at the Smithsonian Conservation Biology Institute (SCBI), a veterinary and reproductive research center headquartered in Front Royal, Virginia. She arrived at Denver Zoo on Saturday, May 17 on a Frontier Airlines flight, accompanied by a Denver Zoo keeper and staff member. The cub will be introduced to the zoo's current clouded leopard cubs, male, Pi and female, Rhu, in the Zoo's Toyota Elephant Passage exhibit in the near future.

"As the official airline of Denver Zoo, we are proud to have been able to help bring home the Zoo's newest animal," says Daniel Shurz, senior vice president, commercial. "I look forward to visiting the cub at its new home soon!"

"This move is critically important to ensuring the long term success of this species. Through collaborative research between the SCBI's Dr. Jo Gayle Howard, Nashville Zoo and scientists in Thailand, we have learned that cubs must socialize with other cubs at an early age in order to be receptive to breeding as adults. With few cubs in zoos this is a very important step to ensuring a stable long-term population," says Denver Zoo's Assistant Curator of Toyota Elephant Passage Rebecca McCloskey.

[ Denver Zoo ]
---
Tuesday- May 13th

I'm sure you have already heard about the Ombre hairstyle that is all the rage now, but have you heard about Ombre' nails? It's a type of manicure that starts with a light color on the bottom and blends into a much darker color towards the tip of you nails.

I found this great website to show you step by step how to do Ombre manicure at home. Enjoy!

http://www.wikihow.com/Do-Ombre-Nails

________________________________________________________________________________________
HATITUDE!!!

Kentucky Derby kicked off this weekend and YES, it's also about the fashion….especially the hat ladies! When looking for a hat, anything goes! It's all about your personality. I found this adorable, pink hat at Mariel here in Denver. The owner, Denise Snyder, always encourages her customers to step out of their comfort zone and try something unexpected. She also said, "Add the smokey eye look with false eyelashes to really get attention."

Traditional big brim hats are always in style, but some go for the popular Kate Middleton look. She has charmed millions of fans with her detailed pieces that are much smaller. Of course you can always go for the over the top fascinator, like her cousins did at her wedding a few years ago.
It's hard to put a price on fashion and style, some are willing to spend hundreds for that perfect statement hat. Last year, women's hats had a 16% increase in sales. Store owners worldwide banked $300 million in retail.




If you want to buy mom that spa day, cute outfit, perfume or makeup, visit Town Center of Aurora's 150 retailers including Macy's, JCPenney, Dillard's, Bath & Body Works, eyebrow designer 21, Finishing touch accessories, Fragrance Hut, Nail Focus, and Paris Salon.

Connect with Town Center at Aurora at www.facebook.com/TownCenteratAurora, on Twitter at @TCAurora or www.twitter.com/TCAurora, and Instagram at www.instagram.com/tcaurora.

Coming up at Town Center at Aurora:
Don't Miss A Special Moms Event: Indulge—A Stylish Treat for Mothers
Thursday, May 8, 5-8pm at Town Center at Aurora

Town Center at Aurora invites moms to sit back, relax and enjoy an evening that focuses on style and more at Town Center at Aurora all in celebration of Mother's Day. Indulge, a stylish treat for mothers, presented by Diet Coke, takes place on Thursday, May 8, from 5 p.m. to 8 p.m.and provides moms with a much-needed opportunity to treat themselves to a night out, and celebrate motherhood through a fun and fashionable shopping experience.

At Indulge, event attendees can do much more than just shop for spring style must-haves. Moms and their friends can experience the following:
Musical stylings of Denver-based Elohim Orchestra, created on behalf of the We Love U Foundation's Denver Branch. The orchestra holds concerts on behalf of Denver's Road House, which is an organization whose goal is to end homelessness in Denver.
Bra and denim fittings to help mom find the perfect style and fit courtesy of Torrid
Styling services from Herstyler
Delicious refreshments and drinks thanks to mall dining locations such as Auntie Anne's
A showcase of the season's hottest accessories from Icing and other retailers
Boxing and Zumba demonstrations by Tyger Kat Fitness
A special appearance by Lightning Lonnie Smith, champion boxer who won the WBC Junior Welterweight title in 1985.
Plus special event giveaways from Harlequin® books and signed autographs of ex Bronco Linebacker Andra R. Davis
We can't wait to see you there!



---
It's never fun to get a speeding ticket and it's very expensive! The finance website, Nerd Wallet, released a list of the top ten most expensive cities to get a speeding ticket in Colorado and the true cost of one ticket, including the car insurance premium increase.


So, what are the ten most expensive places to get a speeding ticket in Colorado?
Speeding is expensive — and tickets are not the only cost. According to Colorado state regulations, a driver caught speeding 20 miles per hour over the speed limit must pay $232, though the exact fine will vary depending on who cites you and where you are cited. The ticket itself is not the only cost associated with speeding. For almost all drivers, insurance premiums go up as well. On average, Colorado drivers pay $135.61 more per year for insurance after getting a speeding ticket. For many insurers, the rate increases typically last for about three years, which means that Colorado drivers can end up paying an extra $406.83 for insurance after a single ticket.
[ Nerd Wallet ]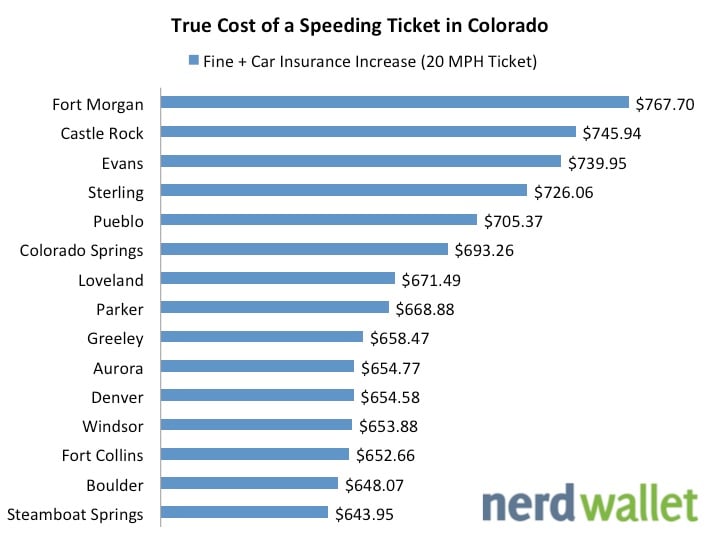 Via:

NerdWallet
---
There is another new baby at the Denver Zoo!


Denver Zoo
Denver Zoo is celebrating the birth of an endangered Malayan tapir calf. The male calf, named Baku (Bah-koo), was born to mother, Rinny, and father, Benny, late in the evening on April 29, and is only the second birth of his species at the zoo. Baku will remain behind the scenes in Toyota Elephant Passage while being cared for by his mother until they are comfortable enough to venture outdoors. Until then, visitors can see live, closed-circuit video of Baku on monitors inside Toyota Elephant Passage.

"Baku" is the Japanese word for tapir. Baku are also supernatural spirits in Chinese and Japanese folklore that take children's nightmares away and protect against evil. They are often depicted as having some tapir-like physical characteristics.
[ Denver Zoo ]

Mom and baby...


WATCH: Denver Zoo welcomes second-ever endangered Malayan tapir
---